The Ohnward Fine Arts Center
"Bringing the arts to everyone"
The Ohnward Fine Arts Center is a volunteer based, nonprofit organization that exists to offer quality and varied entertainment, provide lifelong learning opportunities, and foster creative expression throughout the community in a fiscally responsible manner.
Raid the Roof!
We need a new roof and we need your help!
The Ohnward Fine Arts Center is now in it's 11th season and it is now time to replace the roof on the entire building.  I know this does not seem like a glamorous fundraiser, but it must be done!
The Ohnward Fine Arts Center is a non-profit organization. We receive no funding from the city of from tax dollars. We rely on the generous donations of our business partners and patrons to meet many of our expenses. As a 501(c)(3) organization, all donations to Ohnward are tax-deductible. We are deeply grateful to all those who have given so generously in the past, strengthening Ohnward and ensuring its vitality in this wonderful community.
Our Next Event: Girls with Guitars
Saturday July 14 @ 7PM.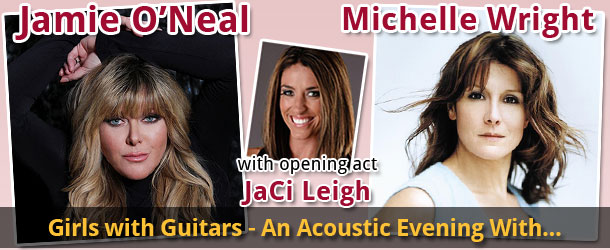 Featuring an Acoustic Evening
With Jamie O'Neal
& Michelle Wright
with opening act JaCi Leigh
Jamie O'Neal is an award winning Country Music Singer and Songwriter with multiple #1 hits, including chart topping "There Is No Arizona" and "When I Think About Angels." With multiple hits that followed, including "Shiver," "Trying To Find Atlantis" and "Somebody's Hero," O'Neal is on fire. She earned numerous career accolades (including multiple Grammy nominations), won Academy of Country Music Awards and Billboard Awards and appeared on national television shows Access Hollywood, Entertainment Tonight, The Tonight Show with Jay Leno, Late Night with David Letterman, among many others.
Michelle Wright was named the Academy of Country Music Top New Female Vocalist in May, 1993. Michelle catapulted to superstardom in Canada the same year, receiving a total of twelve music industry awards, including the Canadian Country Music Association's Fans' Choice Entertainer of the Year award and double platinum honors for Now & Then. She is one of the country's most widely recognized and awarded female country singers of the 1990s. Wright's success includes more than twenty-five singles, including six Number One hits: "Take It Like a Man", "One Time Around", "Guitar Talk", "One Good Man", "Nobody's Girl" and "Crank My Tractor".
Tickets:
$25(in advance) $30(at the door)
All Seating is General Admission
Our Location
The Ohnward Fine Arts Center is located at 1215 East Platt Street in Maquoketa, Iowa on Highway 64 (right across the road from the Jackson County Fairgrounds). Stop in and see our beautiful facility!
Click Here to go to the Maquoketa Chamber of Commerce to find out more information about Maquoketa and all we have to offer.