The Ohnward Fine Arts Center is a volunteer based, nonprofit organization that exists to offer quality and varied entertainment, provide lifelong learning opportunities, and foster creative expression throughout the community in a fiscally responsible manner.
The Ohnward Fine Arts Center is now in it's 11th season and it is now time to replace the roof on the entire building.  I know this does not seem like a glamorous fundraiser, but it must be done!
The Ohnward Fine Arts Center is a non-profit organization. We receive no funding from the city of from tax dollars. We rely on the generous donations of our business partners and patrons to meet many of our expenses. As a 501(c)(3) organization, all donations to Ohnward are tax-deductible. We are deeply grateful to all those who have given so generously in the past, strengthening Ohnward and ensuring its vitality in this wonderful community.
Our Next Event: Women's Wellness Day featuring Sonya White
Saturday October 8, 2016 | Vendor Show: 4PM to 7PM - Sonya White: 7:00 PM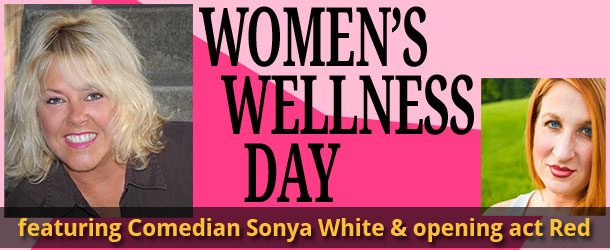 Vendor Show: 4pm til 7pm
Sonya White: 7pm
Opening Act: Comedian "Red"
Breast Cancer Awareness Month, also referred to in America as National Breast Cancer Awareness Month, is an annual international health campaign organized by major breast cancer charities every October to increase awareness of the disease and to raise funds for research into its cause, prevention, diagnosis, treatment and cure. The campaign also offers information and support to those affected by breast cancer.
Saturday, October 8 the Ohnward Fine Arts Center will host a Women's Awareness Day, highlighting Breast Cancer Awareness.
Booths will be set up in the lobby. These booths can feature anything to do with women and breast cancer awareness. Booths will be able to sell goods. Booths will be open from 4 till 7 PM.
The evening will be highlighted by professional comedian Sonya White. Opening act comedian RED! Showtime will be 7 PM.
Sonya White is based in Chicago, IL. Originally from Virginia, she has combined southern charm with big city street smarts to create a show that won her multiple appearances on CBS's 'Star Search' and a promo spot on NBC's 'Last Comic Standing 4'. Sonya has most recently appeared on a CMT production 'Southern Fried Chicks' which is now available on DVD. The show is also touring throughout the country and abroad. Also, The Travel Channel followed Sonya in Chicago as she appeared in a reality TV show 'Americas Worst Driver.' Sonya has performed on Oxygen's 'Girls Behaving Badly.' She has been featured on Comcast's 'Comedy Spotlight' and at 'The U.S. Comedy Arts Festival 1999,' which aired on HBO, E, and Comedy Central.
White's observational comedy is enhanced by dead-on impersonations and appropriate sound effects. Both her comedy stage show and her one-woman show, 'Airing Dirty Laundry,' are based on real-life experiences and her fond-but irreverent-interactions with friends, family and the world at large. White's television credits also include roles on the Fox Network's 'Nightshift,' The Family Channel's sitcom 'Big Brother Jake' and MTV's national promotion for 'Spring Break '98.' She has played a colorful character on national promos for 'The Jerry Springer Show,' and done cartoon impressions for The Cartoon Network's 'Pick Your Shorts.' Sonya is a member of both the Screen Actors Guild and The American Federation of Television and Radio Artists.
Tickets:
$22(in advance) $25(at the door)
All Seating is General Admission