The Ohnward Fine Arts Center
"Bringing the arts to everyone"
The Ohnward Fine Arts Center is a volunteer based, nonprofit organization that exists to offer quality and varied entertainment, provide lifelong learning opportunities, and foster creative expression throughout the community in a fiscally responsible manner.
Raid the Roof!
We need a new roof and we need your help!
The Ohnward Fine Arts Center is now in it's 11th season and it is now time to replace the roof on the entire building.  I know this does not seem like a glamorous fundraiser, but it must be done!
The Ohnward Fine Arts Center is a non-profit organization. We receive no funding from the city of from tax dollars. We rely on the generous donations of our business partners and patrons to meet many of our expenses. As a 501(c)(3) organization, all donations to Ohnward are tax-deductible. We are deeply grateful to all those who have given so generously in the past, strengthening Ohnward and ensuring its vitality in this wonderful community.
Our Next Event: Sweet Dreams and Honky Tonks
Saturday December 31, 2016 at 7:00 PM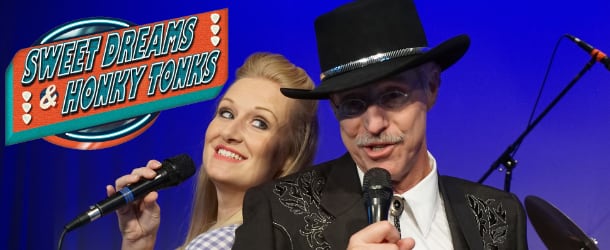 Featuring the music of Hank Williams, Loretta Lynn, Patsy Cline and Johnny Cash
New Years Eve!
It may be impossible to crown any one performer as country music's biggest star, but few would argue that Hank Williams, Loretta Lynn, Patsy Cline and Johnny Cash would all be near the top of any list. Each broke barriers and changed country and popular music forever. Sweet Dreams & Honky Tonks is a new revue that presents the best loved hits of these classic artists, along with stories of their colorful lives and amazing careers. Sweet Dreams & Honky Tonks stars two Wisconsin music veterans: Tom Waselchuk has performed for over three decades, sometimes juggling multiple projects, but always keeping one foot planted firmly in country music. Mr. Waselchuk is a singer and song writer, and plays guitar, bass and pedal steel guitar. Jami Lampkins moved to Madison in 2007 from Nashville, where she was a finalist in the USA Network's "Nashville Star" competition. Ms. Lampkins is a powerful singer, a song writer, and an accomplished guitarist and banjo player who has played professionally since age 14.
Tickets:
$25(in advance) $30(at the door)
All Seating is General Admission
Our Location
The Ohnward Fine Arts Center is located at 1215 East Platt Street in Maquoketa, Iowa on Highway 64 (right across the road from the Jackson County Fairgrounds). Stop in and see our beautiful facility!
Click Here to go to the Maquoketa Chamber of Commerce to find out more information about Maquoketa and all we have to offer.