The Ultimate Roy Orbison Tribute
Saturday March 18, 2023 at 7:00 PM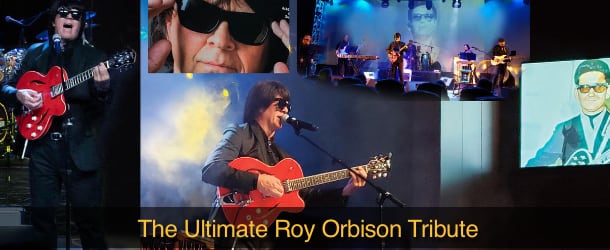 Full of rockin' 80s hits and ballads!
David K sings Roy Orbison's multi-octave range beautifully and with ease. The musical arrangements are precise and the string parts exact. You'll think its Roy performing the original recordings. Loose yourself in the awesome mix of songs from Roy's historic legacy.
The journey starts with Roy's early 60s hits "Ooby Dooby," "Blue Angel," "Only The Lonely" and "Lana", through his songs recorded by other artists and used in film; "In Dreams," from the movie Blue Velvet "Oh, Pretty Woman," of the movie of the same name and "Blue Bayou" which was covered by Linda Ronstadt. Then follow his resurgence in the 80s with his 22nd album "Mystery Girl" produced by Jeff Lynne of E.L.O. finished in 1988 one month before his death.
David K as Roy sings these rockin' 80s hits and ballads perfectly. Then Tom Petty, Jeff Lynne, Bob Dylan and George Harrison of The Beatles would co-write some 20 hits with Roy as The Traveling Wilburys to fill Roy's final year of life with musical joy and genius. David K's band of musical personalities conveys that musical Traveling Wilburys spirit with fun and passion. This show has been filling venues from Florida to Arkansas, Iowa and all over David K's home state of Minnesota. This multi-instrumental band is exceptional, experienced and engaging. Don't miss this show. Step back in time to realize, with the help of David K, that Roy hasn't left us and his brilliant musical legacy never will.
Tickets:
$22(in advance) $25(at the door)
Students (18 & Under) Tickets:
$13(in advance) $15(at the door)
All Seating is General Admission