The Ohnward Fine Arts Center
"Bringing the arts to everyone"
The Ohnward Fine Arts Center is a volunteer based, nonprofit organization that exists to offer quality and varied entertainment, provide lifelong learning opportunities, and foster creative expression throughout the community in a fiscally responsible manner.
Our Next Event: Helen Russell & Company
Saturday April 25, 2020 @ 2:00 PM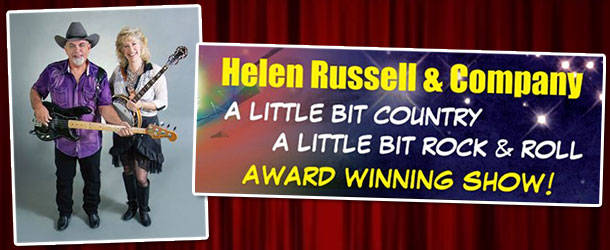 Cancelling events that are likely to draw crowds is an example of social distancing. Social distancing is deliberately increasing the physical space between people to avoid spreading illness. Staying at least six feet away from other people lessens your chances of catching COVID-19.

It is for that reason that we will need to cancel the April 25, Helen Russell and Company show. If you have already purchased tickets please contact the Ohnward Fine Arts Center for a ticket exchange to any upcoming show.

Elvis and Helen Russell provide high energy toe-tappin' LIVE AWARD WINNING music shows and entertainment for a variety of venues across the United States. They are located in the Lake of the Ozarks area at Osage Beach, MO. Many folks remember Helen as an entertainer with Lee Mace's Ozark Opry, where her abilities as a vocalist and instrumentalist were enjoyed 6 nights a week for 19 seasons. Well folks, she is now better than ever! Enjoy family style comedy and impersonations along with audience participation! With Elvis on bass, they also feature keyboard, banjo and drums. It will be an entertainment experience that you are sure to enjoy. They look forward to seeing you "on the front row" at the Ohnward Fine Arts Center. You will be 100% entertained!! Featuring Classic Country, Bluegrass, Classic Rock, Gospel, Comedy and Impersonations!
Tickets:
$22(in advance) $25(at the door)
Students (18 & Under) Tickets:
$13(in advance) $15(at the door)
All Seating is General Admission
Our Location
The Ohnward Fine Arts Center is located at 1215 East Platt Street in Maquoketa, Iowa on Highway 64 (right across the road from the Jackson County Fairgrounds). Stop in and see our beautiful facility!
Click Here to go to the Maquoketa Chamber of Commerce to find out more information about Maquoketa and all we have to offer.
Review Us!
We would love to hear about your experience at the Ohnward Fine Arts Center. Click the image below and leave us a review!